The Good Life Farm is currently seeking applications for Directors and Project Team Members. For more information and to apply, view our role description.
Lesley Porter
CEO, Director and Youth Worker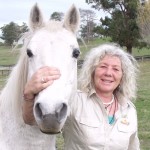 Qualifications: Diploma Horticulture, Cert IV in Youth Work, Cert IV Training and Assessment
Lesley opened The Good Life Farm in Chum Creek in 2005. She is strongly committed to educating people on environmental, social and life skill programs, as well as the benefits of animals interacting with at-risk youth, special needs, and celebrating all differences. In 2012, Lesley received the Pride of Australia Medal in recognition of her work.
Frank Dixon
Chair

Frank Dixon has worked closely with local communities in senior local government roles for more than 30 years. His most recent positions were Chief Executive Officer at Maroondah City Council and Launceston City Council. Frank is also currently Chairman of Monkami Inc and the What Can Be Done Steering Committee. Frank has received recognition for his efforts to support disadvantaged people in their development and played a key role in the establishment of the Hume Global Learning Village.
Susan Bond
Deputy Chair
Qualifications: Masters of Business Administration, Bachelor of Arts & Sciences (Criminology, Psychology)
Susan has worked in the government communications sector for over 10 years, specialising in digital communication. She is passionate about working with services that provide benefit to the community, especially to our youth.
Richard Meredith
Secretary
Richard has been in governance as a board director and a specialist committee member with not for profit organisations, tourism and arts organisations and SMEs for more than 25 years, most recently with the Alternative Technology Association, Valley of the Arts Tourism Association and Good Shepherd Youth and Family. In an eclectic career he has worked variously as a small business owner and marketing and public relations executive, editor and journalist, educator and facilitator and as a creative practitioner and theatre director.
Stephen Milliken
Director
Qualifications: Bachelor of Applied Science (Psychology); Diploma of Leadership and Management
Stephen is a fierce advocate for the empowerment of young people as well as implementing programs, interventions and strategies that aim to reducing harm, risk, welfare reliance and environmental neglect to young people. In addition, Stephen has a keen interest in youth domestic violence (incidence and prevention), substance misuse and mental health.
Tennille Porter
Director and Youth Worker
Qualifications: Bachelor of Psychological Science (honours), Masters in Professional Psychology
Tennille completed her Bachelor of Psychological Science (honours) in 2014 and her postgraduate studies in a Masters of Professional Psychology with a passion for working with children and youth. Her experiences outside of psychological studies include equestrian performance and environmental care. Tennille shares The Good Life Farm's vision for improving the health and wellbeing of youth through social engagement and animal care.
Shannon Wight
Director
Qualifications: Bachelor of Nursing & Graduate Diploma Critical Care, Critical Care Nursing
Shannon is a passionate advocate for quality patient care and works with a focus to engage and empower nurses and provide them with a sense of self-worth and professional value.
Michelle Woolley
Project team
Qualifications: Bachelor of Health Science (Nursing), Graduate Diploma of Nursing (Cardiac) and Master of Social Science (Human Services-Counselling).
Michelle has worked as a registered nurse for 28 years specialising in critical care areas and has worked in multiple indigenous communities. Currently working as a mental health nurse and also as a telephone counsellor for PANDA (Perinatal Anxiety and Depression Australia). Michelle is passionate about supporting vulnerable children and cares about making a difference to people's lives.